About
Booragul Angus was founded by Tim Vincent when he was only 13 years of age. The initial females were purchased from Calleen Angus Stud.
For the following few years the stud was kept as a small interest producing a handful of stud quality bulls that were sold privately as well as in the New England Angus Breeders Sale. These were run on his parent's farm at Bithramere Tamworth.
In the late 90's Tim made the decision to grow his seedstock to a commercially viable enterprise and moved the whole operation to his current location at Piallaway. His first bull sale was held in May 2000.
Currently the herd consists of approximately 200 HBR and APR females, producing 60-70 Angus bulls each year. Our farming operation is spread over two properties producing winter cereal crops mainly for grain production. As a separate sector a small feedlot is also run to maximise the price of our cull cattle and grain.
Our Goal
Our goal is to consistently produce soft easy-doing cattle with strong carcase traits which will reliably go on to produce practical, profitable cattle for our clients. Our cattle are bred to adapt to any environment, with bulls actively working from Northern Australia to the cooler climates of the New England Tablelands.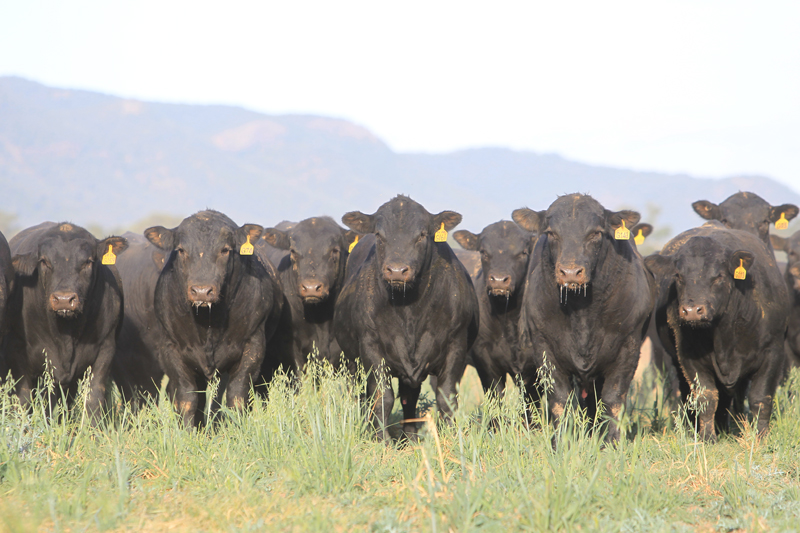 We produce for all markets rather than just a 'one trait' supplier, we have quality stock to cater for the regional bull buyer as well as for those purchasing for export, featuring moderate birth rates with high growth.
We believe in using sires we have bred in our own main working herd to give us a greater practical feedback as to how our bulls are performing against some of the world leading AI sires. Along with BREEDPLAN this method of sire selection is a proven way of producing high performers without losing touch with the commercial reality of the Australian beef industry.